Who is BITInvest?
BITInvest is an online broker that is owned by BIT Management Ltd; it was founded in 2009 and has its offices located in London, UK, as well as in the US. This broker offers trading in the crypto markets, financial futures and options, marginal shares, and other financial tools. Its website promises consistent high profits for members choosing to trade with this platform.
The BITInvest review below seeks to ascertain whether this broker is a legit concern, or a scam organization.
Is BITInvest Licensed?
Any broker offering financial services requires a license and to be regulated in the country in which it operates and offers these services - if it does not have these things in place, then it is acting in an illegal capacity, and placing any funds with such a platform is an extremely risky proposition.
Despite offering its services to investors in the UK, BITInvest is not licensed or regulated by the FCA, the UK body that oversees financial organizations. A regulator acts as both an ombudsman and a watchdog; crucially, if investors lose money as a result of a scam perpetrated by a body that is licensed by the FCA, then they have recourse in terms of reclaiming their funds. This is something that is not available to those who are scammed out of money from a financial body that does not come under the regulatory umbrella of the FCA, or other reputable regulatory bodies.
It is vital, therefore, to ensure that any broker you are considering trading with is licensed and regulated; this is the best way to protect your funds and have the peace of mind that comes with knowing that the organization you're dealing with is a legit concern and acting properly in all its undertakings.
Is BITInvest regulated? No, this broker is operating without any of the required licensing or regulation in place, and investing with this organization is high risk.
Is BITInvest a Scam or Legit?
Its lack of licensing and regulation is a key indicator of a BITInvest scam. However, there are other warning signs, too. There are many reports from former investors who found themselves unable to withdraw funds from their trading accounts, with no explanation given by the company for this situation.
Further evidence of a BITInvest scam is the fact that the FCA has issued a warning to the public, alerting potential investors into the platform that it is an unregulated broker, and that it is therefore providing its services in the UK illegally. The FCA states that investing with the platform is not advisable as funds may be at risk.
In conclusion, it is highly likely that BITInvest is not a legit concern; if you have invested with this platform and believe that you have been scammed out of your funds, then continue reading for your options in terms of reclaiming this lost investment and how the chargeback process works.
Biggest Complaints Against BITInvest
The main BITINvest complaints are from investors who feel that they have been defrauded of their money; in most cases this is where members were inexplicably and suddenly blocked from accessing the funds in their trading accounts: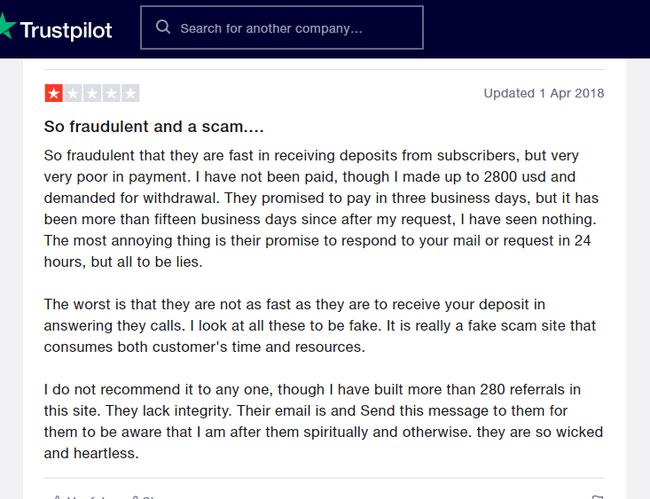 There are also frequent reports of poor customer service, with members unable to make contact with BITInvest representatives, despite claims on the broker's website that all messages are promptly responded to.
The vast majority of online reviews of BITInvest on the review site Trustpilot rates the broker as 'bad' and warn possible new traders to stay away from this broker.
Can I Get My Money Back From BITInvest?
There are options open to you if you have lost funds to BITInvest. Pursuing the matter yourself may result in success, although this can be a lengthy, time-consuming, and stressful process. You may choose, instead, to instruct a professional chargeback company to act on your behalf to secure a BITInvest refund for you. Have a look online to view the chargeback companies in operation, and read reviews from past clients to choose the best team to act in your interests.
What is the Chargeback Process?
If you choose to instruct a reputable chargeback company, then getting your BITInvest money back is a relatively simple process. A member of the team will discuss your case with you, to ascertain whether it has a high chance of success. If this is deemed to be so, then it will be taken on, and the process of document and evidence gathering will begin.
The team will use all of the industry knowledge, experience, and expertise at their disposal to pursue all avenues in the fight to secure a BITInvest refund for you. In the vast majority of cases, this results in a successful outcome, usually in less than six months, depending on the complexity of the case.
Contacting a chargeback company is your best option if you have fallen victim to a BITInvest scam. The team can support you through the entire process, and will work tirelessly to reclaim your scammed funds, and get them deposited directly back into your bank account.