Who Is BitConnnect
Bitconnect was a cryptocurrency mining and trading platform that was launched in 2016 and remained operational until 2018. The platform promised investors returns of at least 91% annually for members who invested more than $10,010.
The stated aim of Bitconnect was, in return for interest payments, to allow investors to lend against the value of Bitconnect coin. It purported to be a community-driven, non-governmentally controlled, decentralized option compared to other platforms. BitConnect claimed that it used an automated bot programmed with complex algorithms to take advantage of the markets and help to secure large profits for users.
In this BitConnect review, we explore whether a BitConnect scam was perpetrated and, if so, the nature of this scam, and what victims can now do to recover their lost funds.
Was BitConnect a Licensed Broker?
Throughout the company's time of operation, BitConnect held no valid regulatory financial license at all. When BitConnect was active, a financial regulator suggested that its platform constituted an unregistered securities offering, and the company was facing fraud charges and regulatory warnings when it closed down in 2018.
Was Bitconnect a Scam or Legit?
The BitConnect scam involving cryptocurrency is one of the most well-known in recent times. One of the key warning signs concerning BitConnect's operations' legitimacy was the company's assurances that users stood to make profits ranging from 91% - 480% on their original investment: a stratospheric amount that had no basis in reality.
The BitConnect trading platform was, in actuality, the external mechanics of a vast Ponzi scheme that generated $2.6 billion dollars in the years it operated and resulted in 1.5 million investors being scammed out of their money. A further red flag indicating that BitConnect was not legit was the way in which it could openly manipulate the market: BitConnect was both the supplier of BCC coin and their own platform held 85% of this stock, making it easy for them to, for example, remove coins from the market to affect value.
Under pressure from regulators and having been served two cease and desist orders (one from the state of Texas, the other from North Carolina) and investors rushing to withdraw funds, BitConnect finally closed in 2018.
Biggest Complaints Against BitConnect
A BitConnect lawsuit was filed in September 2021 by the US Securities and Exchange Commission (SEC). The SEC's main complaint against the company was that BitConnect had scammed lenders by persuading them to invest in a lending program and that this constituted the fraudulent offering and sale of securities. One of BitConnect's key promoters in the US pleaded guilty to his role in the Ponzi scheme in the course of this lawsuit.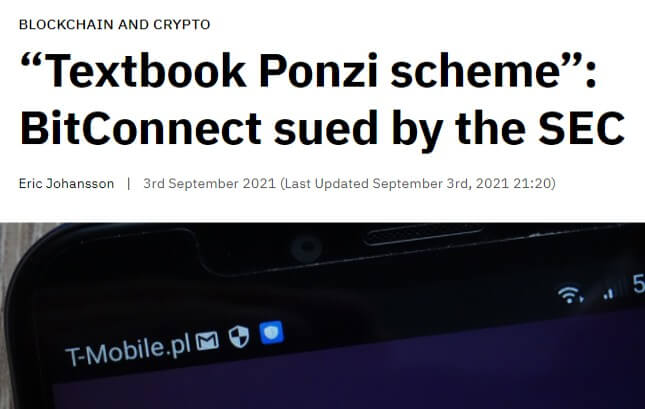 The founder of BitConnect, Satish Kumbhana, also faced legal action in a connected case which is thought to be possibly the biggest cryptocurrency criminal case ever brought before a judge in the US.
Can I Get My Money Back From BitConnect?
If you've been scammed out of funds by this company, a BitConnect refund is possible. Individuals who have lost money can attempt to approach the relevant financial and regulatory agencies themselves in a bid to recoup their investment; however, for the greatest chance of getting Bitconnect money back, it is highly advisable to instruct the services of an experienced chargeback company. If your case is taken on, a professional chargeback company can arbitrate for you and fight on your behalf, and many have excellent success rates in recovering money for their clients.
How Does the Chargeback Process Work?
To get the ball rolling with obtaining a BitConnect refund, first of all, get in touch with a reputable chargeback company that has a high success rate and plenty of experience in cases such as the BitConnect scam you've been a victim of. Take some time to research which company to go with, and be sure to check for favorable reviews.
Next, a chargeback company will usually look at your case to ascertain if it has a good chance of being successful and, if it does, then they will take it on and begin assembling documentation and relevant evidence to try to secure a BitConnect refund for you.
Once this has been completed, the team will approach, confront and negotiate with any entities, individual figures, and companies that have had any involvement in the scam. They will use their experience and expertise in the field too, in the majority of cases, to bring about a successful outcome and reunite their client with their scammed funds.
If you've lost money as the result of a BitConnect scam, it is highly recommended that you make contact with a chargeback company as soon as possible to discuss your case and take the first step in recovering the funds that are rightfully yours.