Who is Bitearn?
Bitearn was an online broker with its offices registered in London, UK; its parent company was Bit Earn Limited. This organization's website has now been shut down. The Bitearn review below seeks to ascertain whether it was a legit concern or a scam broker and, should the latter be the case, the options for recourse available to investors who lost money.
Is Bitearn a Licensed Broker?
Bitearn was not licensed and had no regulatory body overseeing it, which meant that it was offering its financial services illegally. If you're considering signing up with a new broker, it is very important to make sure that it has the necessary license in place, and is being regulated by a reputable and stringent financial body, that will serve as a watchdog and safeguard your invested funds.
The presence of a regulator will give you the peace of mind that comes with knowing that you are dealing with a legit broker; it also means that your funds are protected: a regulator acts as insurance, and so if the broker runs into trouble, or turns out to be a scam, then you have recourse in terms of reclaiming any lost funds.
Be aware, too, that the stringency of regulations varies from country to country, meaning that what may be an allowable practice in one territory would be sanctioned in another, so it's important to satisfy yourself in this regard, too.
In conclusion, is Bitearn regulated? The answer is no, this broker did not have any of the necessary licensing or regulation in place that would have allowed it to offer financial services legally.
Is Bitearn a Scam or Legit
As well as its lack of license and regulation, and the fact that its website has now been shut down, there were other clear warning signs that a Bitearn scam occurred, which potentially resulted in the loss of large sums of money for those trading through the platform. The number of negative reviews from former investors in the platform is another clear indicator that all was not as it seemed: read more on these complaints below.
Bitearn was almost certainly a Ponzi scheme: the aggressive tactics used by representatives of the company to persuade existing traders to invest ever larger sums of money is a typical trademark of this type of fraud. In a Ponzi scheme, the trading platform is a front: there is actually no real trading going on at all, and the only source of income into the organization is through existing members' continuing investments, and money coming in from newly recruited traders. Typically, once new income dries up, the perpetrators of a Ponzi scheme will close up the business, shut down the website and disappear, taking all the remaining money in the pot with them, which is what seems to have been the case with Bitearn.
Biggest Complaints Against Bitearn
A quick search online will reveal a plethora of Bitearn complaints, most of them claiming that the platform was a scam, and from former investors detailing how they were defrauded out of their funds.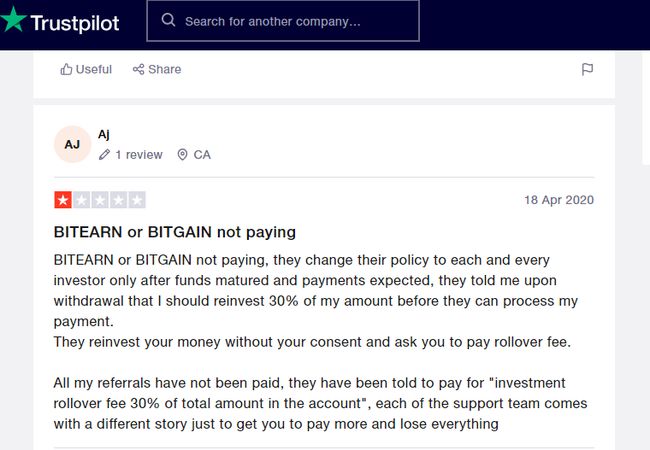 As per the example above, reviews can be found from former members citing how Bitearn representatives told them that they would only be able to withdraw money from their trading accounts if they agreed to reinvest a substantial amount of these funds.
There are also complaints concerning poor customer service, and phone lines and email addresses being frequently unavailable.
Can I Get My Money Back From Bitearn?
Yes, obtaining a Bitearn refund is possible. To do this, your best option is to instruct the services of a professional chargeback company, who have the experience, expertise and industry knowledge to fight the case on your behalf and, in most cases, they will be able to get your Bitearn money back. Have a look online for reputable chargeback companies: pay particular attention to their success rates and reviews from past clients to find the best one for you.
What is the Chargeback Process?
A member of the chargeback team will contact you to discuss your case in depth; if it is deemed to have a high chance of success then it will be taken on. The team will then begin assembling all the evidence and documentation required to track down your scammed funds and confront all of the perpetrators involved. Their experience in dealing with similar scam cases puts them in the ideal position to fight on your behalf, and they know all of the avenues to pursue for the best likelihood of a successful result.
If the chargeback company obtains a Bitearn refund for you, these funds will be deposited directly into your bank account. The process can take about six months from start to finish, although the exact timeframe will depend on the complexity of the case.
Getting in touch with a chargeback company is your best option, if you have been the victim of a Bitearn scam. The team will be able to support you through the entire process, and will work tirelessly on your behalf to get your Bitearn money back.