Who Is Crypto 300 Club?
The Crypto 300 Club was launched in 2018 and claims to be the top online trading forum for crypto. The company's website states that investors can expect to see a minimum of a 30% return on their deposit annually and that earnings can be withdrawn within 48 hours. Crypto 300 Club states that all purchases are covered by a money-back guarantee.
In this review, we investigate these claims to determine whether this company is legitimate or if a Crypto 300 Club scam is being perpetrated.
Is Crypto 300 Club a Licensed Broker?
Crypto 300 Club is not a licensed broker and is not regulated by any overseeing financial body. This means it is potentially unsafe for traders to invest in. When looking for a trading broker or platform, ensuring that it is properly regulated and has the necessary licenses is an important step in ensuring its legitimacy and avoiding scam organizations.
So, in answer to the question, "is Crypto 300 Club regulated?" - the answer is a definite no.
Is Crypto 300 Club a Scam or Legit?
An important clue that Crypto 300 Club is a scam is the claims made on the company's website; guarantees of spectacular, easily achievable returns that are entirely unrealistic. The fact, too, that the website invites people to earn millions of dollars 'without government oversight' is a major red flag indicating a Crypto 300 Club scam. The company is, effectively, an ICO, raising money from its investors to use in trading crypto assets. Profits from these trades are 'guaranteed' to the investors who have been persuaded to part with their money.
The CNMV in Spain has issued a public warning regarding this trader, which is one of the strongest indications that they should be avoided.
A further sign that Crypto 300 Club is a scam is the lack of information on the website regarding details of technical trading aspects, or on the trading strategies that the platform deploys. Verifiable information on trading history is also not provided, and no drawdown limit for traders is specified. Platforms such as this that do not provide clear and transparent information on the fundamentals of their trading processes, should be treated with extreme caution, and traders are advised against depositing funds with these types of organizations.
Finally, as Crypto 300 is operating without registration, regulation, or licensing, it is acting illegally in its capacity as a brokerage, trading, and investment platform.
Biggest Complaints Against Crypto 300 Club
One of the most frequent Crypto 300 Club complaints are from traders that have been left unable to withdraw their money and, when they have tried to contact the company regarding this, have either gotten either no response or automatically generated responses that have not resolved the problem: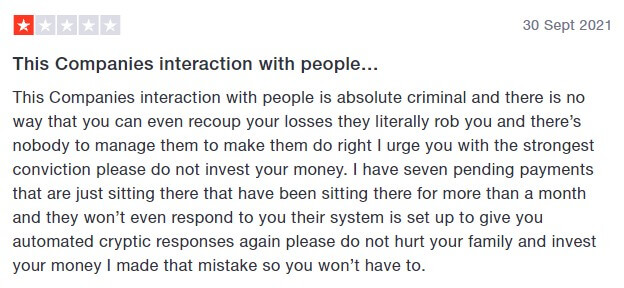 Trustpilot scores the company poorly and features a plethora of negative reviews from Crypto 300 Club users who claim their funds have been scammed. Unacceptable levels of customer support are regularly cited, and there are a large number of reviews that state the company cannot be trusted regarding the claims made on its website. Yet more previous investors claim that the company only allows traders to withdraw money while they are actively investing and prevent withdrawals once a trader becomes suspicious and ceases further investment.
Can I Get My Money Back from Crypto 300 Club?
It is possible to obtain a Crypto 300 Club refund; the likelihood of success will depend on several options, key among them whether you decide to attempt to recoup the funds yourself or opt to enlist the help of a professional chargeback company.
While it is possible to make representation yourself in a bid to recover your lost funds, using a chargeback company will make the chance of a successful outcome much more likely; due to their experience and industry knowledge, they know exactly how to track down your scammed funds, and the approaches needed to achieve Crypto 300 Club money back.
What Is The Chargeback Process?
If you have been a victim of a Crypto Club 300 scam that has left you out of pocket, then the first step is choosing a reputable chargeback company that has consistently positive reviews from past clients and a high rate of success in reuniting scammed funds with their owners.
Once you've made contact with your chosen chargeback company, they will discuss your case with you and the next steps. Most companies will only take on cases that are deemed to have a significant chance of success.
If your case is taken on, the chargeback company will now begin the process of evidence and information gathering to confront all the entities that had any involvement in the scam. The team's expertise is invaluable in knowing the most effective avenues to pursue to get the lost funds back to you in the shortest time scale possible. Once a refund has been secured, this will then be deposited into your account.
If you have lost money as a result of a Crypto 300 Club scam, then it is advisable to get in touch with a chargeback company at your earliest convenience to start the process of recovering your investment.