Who Is Cryptonix Team?
Cryptonix Team was an online broker that was founded in 2018; its website has now been shut down. It offered trading opportunities in the crypto market, with members able to take positions on cryptocurrency pairs against the dollar or several other currencies. The deposit required to open a new trading account was $250, and the minimum deposit was $100, and the platform offered a bonus payment to new members. Cryptonix Team's parent company was Wilkinson Europe Ltd, and its address was listed as being in London, UK.
The Cryptonix Team review below seeks to ascertain whether this online broker was legit or if a Cryptonix Team scam was actually being perpetrated, which resulted in the loss of funds for a significant number of its members.
Is Cryptonix Team a Licensed Broker?
Cryptonix Team did not hold a license from the FCA, which it would legally require to offer financial services in the UK. This means that this broker was operating in an unregulated capacity, making it an extremely risky proposition in terms of investment. A regulator acts as a watchdog, ensuring that all practices the organization is involved in are legal and that best practice is being followed in all its processes. Without regulation, it is difficult for traders on the platform to seek redress should the broker run into problems.
It is vital, therefore, to make sure that any trader you are considering investing funds with is fully licensed and regulated by a stringent and reputable financial body. It is worth bearing in mind that the nature of regulations varies from country to country, so what may be seen as an acceptable practice in one territory may attract sanctions in another.
Is Cryptonix Team a Scam or Legit?
Given the lack of regulation and the fact that the platform's website has now shut down, there is a high likelihood that Cryptonix Team is a scam. Further warning signs were the existence of the withdrawal and processing fees that the platform levied on members: most regulated; legit platforms do not levy these charges; added to this was the generally unfavorable trading conditions offered by the site; limited payment options were available, and the site sought to convince members that it was a crypto-exchange when, in fact, it was not.
In all likelihood, Cryptonix Team was probably operating a Ponzi-style scheme in which no actual trading was being undertaken - these frauds typically have an online presence that acts as a front for the scam: in reality, the only source of funds is coming from investment by members, and, once all new investment has dried up, the sites tend to shut down and the companies close down and disappear, taking all of the money left in the pot with them.
The answer to the question, "is Cryptonix Team a scam?" is that this was very likely the case.
Biggest Complaints Against Cryptonix Team
The majority of Cryptonix Team complaints regard what was widely perceived as the fraudulent nature of the platform, with a plethora of reviews online that detail how previous members have been scammed out of their investment: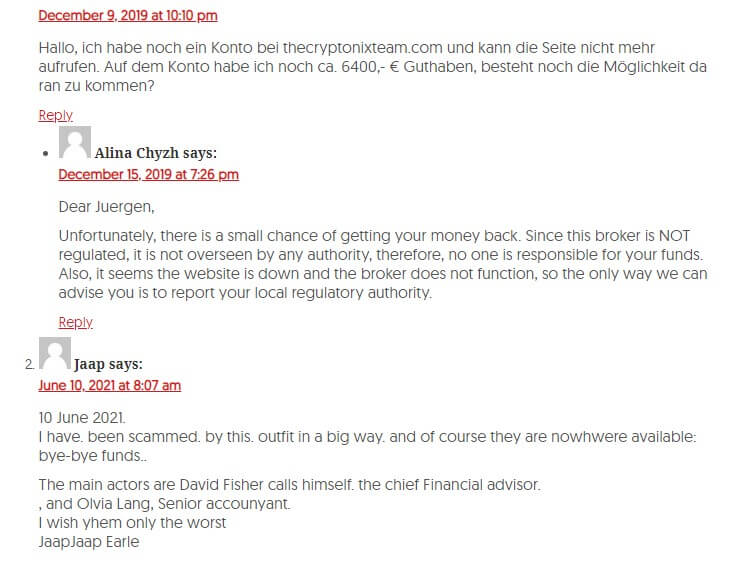 Trustpilot rates Cryptonix Team as "poor" overall; reviews are from members who state that they have thousands of pounds in their online accounts which they have been unable to withdraw. There is much mention, too, of the unclear nature of the small print regarding the bonus payment that the platform made as standard to new members. By accepting this payment, traders effectively agreed that they would not withdraw any funds until the money in their account had reached a certain level - often into the hundreds of thousands of dollars. This resulted in most traders being effectively unable to access any profits that they had made.
Can I Get My Money Back From Cryptonix Team?
Yes, it is possible to get a Cryptonix refund. In order to do so, you can either pursue the matter yourself or instruct a professional chargeback company to act on your behalf. The latter option usually has a greater chance of success due to the expertise, industry knowledge, and experience in similar scams that a chargeback team has.
How Does the Chargeback Process Work?
To begin, decide on the chargeback company you want to work with - be sure to check online reviews from past clients and their overall success rates. Once you've chosen, get in touch with the company. Most have a simple contact form on their websites.
Next, a representative will be in touch to thoroughly discuss your case with you. If it's deemed to have a high chance of success, it will be taken on, and the team will begin the process of assembling all the required documents and evidence. Using this, they will track down your funds and confront all of the entities involved in the scam. In the likely event that this results in getting your Cryptonix Team money back, this will be deposited directly into your bank account.
If you've been the victim of a Cryptonix Team scam, then it is advisable to get in touch with a chargeback company at your earliest convenience to take the first step in recovering your lost funds.