Who Is Elcurrency?
Elcurrency is an online trading broker; its offices are listed as being located in the Marshall Islands. This broker is owned by Hello Technology Ltd & Elcurrency Global Limited and focuses on trading opportunities in the cryptocurrency markets. New members need to deposit a minimum of $500 to open a trading account. The organization's website claims that it is a safe and reliable broker that offers 24/7 customer support and the potential for its users to make substantial profits.
The Elcurrency review below seeks to interrogate these claims and to explore whether or not this is a legit company.
Is Elcurrency a Licensed Broker?
As an organization offering investment opportunities, Elcurrency is required to have the relevant licensing and regulations in place to legally provide these services in the countries in which its users are located. Elcurrency does not have a license and is not regulated, making it an extremely risky proposition when it comes to investing funds.
The role of a regulator is to act as a watchdog and a safety net; these organizations ensure that brokers are acting properly and within the law and provide recourse and the opportunity for traders to be recompensed should the broker run into trouble. It's vital to check that any broker you're considering investing with is licensed to best protect your funds - having a license in place is also a key indicator that the organization is legit.
So, in answer to the question, is Elcurrency regulated? - the answer is no; this broker is operating in an unregulated and unlicensed capacity, which is a major red flag when it comes to its legitimacy.
Is Elcurrency a Scam or Legit?
Several regulatory authorities have issued public warnings concerning Elcurrency: The Cyprus Securities and Exchange Commission (CySEC), the Financial Conduct Authority (FCA), and the Australian Securities and Investments Commission (ASIC) have all advised investors to steer clear of Elcurrency, which serves as a clear indication that this company is a scam.
A further suggestion that an Elcurrency scam is underway is the lack of important information and details that appear on the broker's website. Key information about withdrawal methods, the nature of the leverage offered, or the trading software being deployed by the platform; the unclear nature of much of the details incorporated in the terms and conditions is also a warning sign.
Finally, even the most cursory look at online reviews from past members gives a clue as to the legitimacy of the company - it is generally rated as untrustworthy, with a plethora of former investors advising other potential traders to avoid the platform at all costs. On the review website Trustpilot, more than 90% of reviewers categorize Elcurrency as 'bad.'
Biggest Complaints Against Elcurrency
The main Elcurrency complaints are from traders that have been faced with having their accounts inexplicably frozen so that they were unable to withdraw their funds and from those complaining by the aggressive tactics used by the organization's representative to try to persuade investors to pour more money into the company: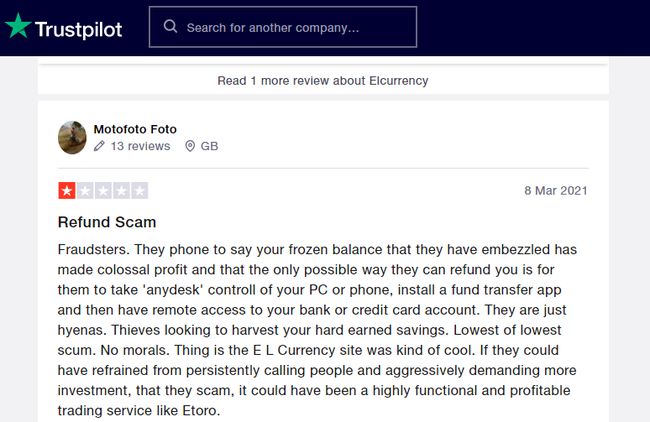 The sort of hard-sell tactics deployed by Elcurrency suggests that this platform is a Ponzi scheme masquerading as a legitimate investment opportunity. In these sorts of schemes, the only money coming into the organization is from new investment, with no actual trading actually being undertaken at all.
Can I Get My Money Back from Elcurrency?
Obtaining an Elcurrency refund, if you believe that you have been scammed out of your funds is possible, although the route you choose to pursue this will determine the likelihood of success. You may want to try to get your Elcurrency money back yourself by tracking down your funds and confronting all of the entities involved in the scam. Alternatively, you could instruct a professional chargeback company to do the job for you: as well as meaning that you don't have to deal with the extra stress of pursuing the matter yourself, a chargeback company has the experience and expertise necessary to make achieving an Elcurrency refund much more likely.
What is the Chargeback Process?
To get started with getting your scammed funds back, first, choose a reputable chargeback company to work on your behalf - check reviews from past clients to get an idea of the service you can expect to receive, and ascertain the company's success rates, too.
Once you make contact with your chosen team, your case will be assessed; if it's deemed to have a high chance of success, then it will be taken on, and the process of assembling evidence and information will begin. The chargeback team will then leave no stone unturned in tracking down both your funds and those responsible for scamming it and will fight to get this money back to you. In the vast majority of cases, an Elcurrency refund will be achieved, and these funds will be deposited directly into your account.
If you have been the victim of an Elcurrency scam, then your best course of action is to make contact with a chargeback company at your earliest convenience to take the first steps in being reunited with your lost funds.