Who Is N Capital Group?
N Capital Group was an online broker owned by Expand Solutions that had its offices based in the Seychelles and offered traders the opportunity to trade in the crypto markets. This organization's website has now been closed down. The N Capital Group review below seeks to ascertain whether or not this broker was a legit organization or a scam and, if the latter is the case, then the recourse is open to investors who have lost money to this platform.
Is N Capital Group a Licensed Broker?
N Capital Group was operating without any of the regulation or licenses in place that it needed to legally offer its financial services to investors. This meant that even disregarding any other of the red flags concerning this broker, investing with it was always an extremely high-risk proposition. A reputable and stringent regulator acts as both a safety net and watchdog: it ensures that a broker is acting within the law and following best practice, and also serves as an insurance policy for investors, as it allows for the opportunity to recoup lost funds if the broker runs into trouble or turns out to be a scam concern.
It's important to be mindful that the nature of financial regulations is not the same in every country: what may be a disallowed practice in one territory could be entirely within the law elsewhere, so be sure to fully satisfy yourself that the platform you're considering using is both licensed and is regulated by a well-respected financial body.
In answer to the question, is N Capital Group regulated? - the answer is no, this broker was acting without the necessary licensing and regulation in place and was considered high-risk in terms of investment.
Is N Capital Group a Scam or Legit?
As well as the fact that N Capital Group wasn't licensed or subject to regulation, and that its website has closed down, there are other things that point to a scam. Former traders consistently point to the platform suddenly and inexplicably closing down their accounts, leaving them with no way to withdraw their funds. There are also frequent reports of aggressive tactics being used by representatives of N Capital Group, in bids to persuade members to invest ever larger sums and with more frequency, as well as many incidents cited of traders being told they would need to pay extortionate charges in order to withdraw money from their trading accounts.
All of this evidence strongly suggests a Ponzi scheme was in operation by the broker - in this type of fraud the platform acts as a front, and no actual trading is going on at all: the only money coming into the organization is from existing members (hence the pressure to put in more and more cash) and from new traders that these members are encouraged to recruit. In a Ponzi scheme, once the investment has dried up, the scammers will simply shut up shop and disappear with any funds remaining in the pot, which appears to have been exactly what has happened in the case of N Capital Group.
Biggest Complaints Against N Capital Group
There are a plethora of poor reviews for this broker that can be found online. The biggest N Capital Group complaints are from former members claiming that the platform is a scam that knowingly defrauded them out of their funds: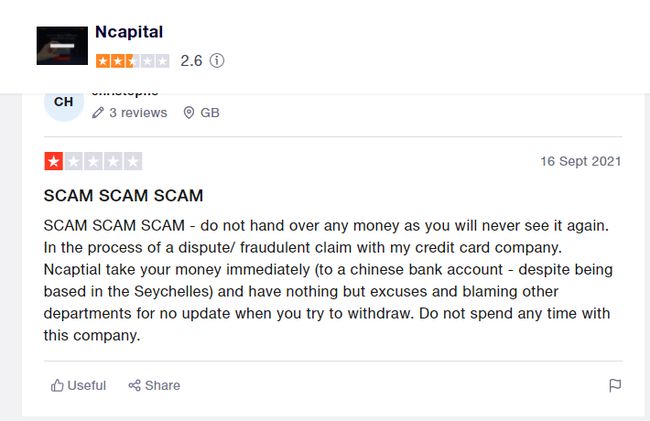 There are also many complaints regarding the general level of customer service that members experienced with this broker; there are frequent reports of messages being ignored and email addresses and phone numbers not working.
Can I Get My Money Back From N Capital Group?
Yes, it is possible to get an N Capital Group refund. For the best chance of success in this regard it is advisable to instruct a reputable chargeback company, who will deal with the whole process from you, saving you the need to expend any more time and stress in trying to get your N Capital Group money back. Choose a chargeback company by taking some time to look online at their success rates, and reviews from past clients.
What Is the Chargeback Process?
Once you've decided on a chargeback company and made contact with the team, a representative will fully discuss your case with you to ascertain whether it has a high chance of success. If this is deemed to be so, then it will be taken on, and the team will begin the fight to secure an N Capital Group refund for you.
A chargeback company has all the industry contacts, expertise, and experience in dealing with scams needed to get your money back - the whole process can take about six months, depending on the complexity of the case. Once a refund is obtained, the funds will be deposited directly into your bank account.
If you have lost money to an N Capital Group scam then recourse is available. Getting in touch with a professional chargeback team at your earliest convenience is your best option in terms of reclaiming your funds.