Who Is PetronPay?
PetronPay was founded in 2019 and is a platform that claims to offer oil investment opportunities that provide substantial returns for those choosing to deposit funds. Petronpay states on its website that it has partnered with several large oil refineries and that it operates with the highest levels of transparency. The company offers potential investors several different investment packages, all of which suggest that users will see large daily profits on their funds.
Petronpay also claims to offer an affiliate membership system, which promises commission and bonus payments.
In the PetronPay review below, we look at these claims to ascertain whether or not a PetronPay scam is being perpetrated.
Is PetronPay a Licensed Broker?
PetronPay is not a regulated broker. The company claims to be registered in Switzerland but has been blacklisted by FINMA, the Swiss financial regulator.
Potential investors in any trading platform are advised to always ensure that the platform or broker they are considering is fully licensed and regulated, to safeguard their funds and for peace of mind. It is also worth noting that the nature of regulations is not universal and that the regulations in some countries will be stricter than those in others.
In conclusion, in answer to the question, "is PetronPay regulated?" - the answer is a categorical no, it is not.
Is Petronpay a Scam or Legit?
Is Petronpay legit? The first clue that this is not the case is the company's website. The site content is full of typos and reads poorly. It also does not offer a clear summary of the platform's trading strategy or give clear details of its founder and his investment background.
PetronPay is, in all likelihood, a Ponzi scheme, with money from new members the only source of funds to make payments to incoming investors who believe they are, in fact, speculating on the crude oil market. The aggressive multi-network marketing strategies used by PetronPay, and the push to encourage members to bring onboard new investors support this conclusion.
There have been claims, too, that the CEO profile on the website is fake, and there have been allegations online that the platform is committing securities fraud. Further, the benefits of the membership scheme that PetronPay offers on its website can only be unlocked if members bring in more investors to the platform.
Lastly, any organization promising consistent, high returns is likely to be untrustworthy and should be treated with extreme caution.
Biggest Complaints Against PetronPay
One of the most frequent PetronPay complaints relates to how investors were only able to transact in bitcoin for a time before changing the platform rules to only allow for trading to occur in Petron, the brokerage's own coin. This turned out to have minimal value, and investors found, when withdrawing funds, that they regularly only received a small proportion of the payout they had been led to believe they were owed: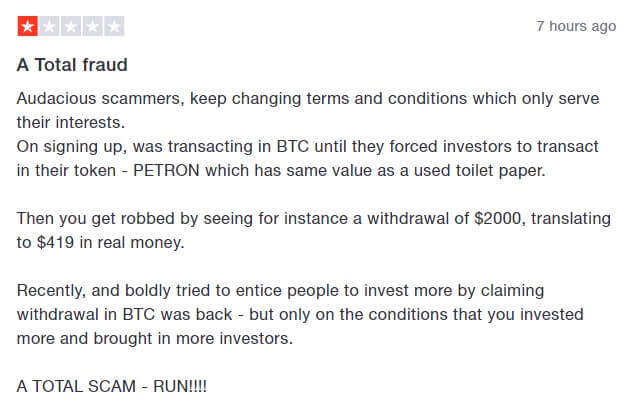 Extortions for investors to put more money into the company and recruit additional investors were also cited by past clients of the platform.
A multitude of negative reviews of PetronPay can also be found online, from users claiming that their money was completely scammed, that the company is impossible to contact, and that the website is a fake with no connection to the crude oil markets at all.
Can I Get My Money Back from PetronPay?
It is possible to get a PetronPay refund. However, if you choose to pursue the platform yourself, it will likely be tricky, and there is only a very limited chance of success. Enlisting the services of a professional chargeback company is highly recommended. Such an organization has the expertise and industry knowledge required to pursue the case through a range of channels, and, of the cases that they take on, most have a very high rate of success in recovering scammed funds on behalf of their clients.
What Is the Chargeback Process?
To begin the process of getting PetronPay money back, start by choosing the chargeback company you wish to work with. Have a look for positive reviews and a high success rate. Once you've made a selection, the company can usually be contacted via a simple online contact form on their website.
A member of the chargeback company team will contact you to fully discuss your case. If it is deemed likely to be a winnable one, your case will be taken on, and the team will begin to assemble the documentation and evidence needed to fight for a PetronPay refund for you. At this point, the chargeback company will confront PetronPay and any agency that has had any involvement in the scam, in a bid to recover your scammed funds. This process can take about six months and, once the money has been retrieved, will usually be deposited directly into your bank account.
If you have been the victim of a PetronPay scam, then it is highly advised to make contact with a reputable chargeback company at your earliest convenience, to take the first step along the road of recovering your lost funds.