Who Is SmartFX?
SmartFX is an online brokerage platform that allows members to trade in currency pairs, commodities, stocks, and other options. Its website remains active, and the company has offices registered in Dubai and Vanuatu; the parent company is Smart Securities and Commodities Limited.
SmartFX offers its members a single account and trading platform, and a demo account is available to trial its system before proceeding to become a member. The platform uses MetaTrader 5 and allows for auto trading and the use of trading signals, and the website claims to have the simplest account opening system on the market.
The SmartFX review below investigates whether this organization is legit or a scam and the options that traders have if they believe themselves to have been scammed out of their funds.
Is SmartFX a Licenced Broker?
One of the first things to look out for when gauging the credibility of an online broker is its status with regard to regulation and licensing. In the case of SmartFX, an overseeing financial body is in place; this broker is regulated by the Vanuatu Financial Services Commission (VFSC). However, the nature of regulations varies country by country, and the VFSC is not regarded as being as reputable a financial body as, for example, the FCA in the UK. Further, despite having offices located in Dubai, SmartFX does not hold a license that would allow it to provide financial services in the UAE, which raises a potential red flag.
When choosing a broker, traders are strongly advised to ensure that the organization they are considering has licensing and regulation in place from a robust financial institution in order to safeguard their funds and allow for redress should the broker run into trouble. It's important to check this carefully before investing any money.
The answer, then, to the question, "is SmartFX regulated?" is yes, but not by the most robust of overseeing bodies, which is a cause for concern.
Is SmartFX a Scam or Legit?
The fact that some regulation is in place is not a complete assurance that SmartFX is a legit organization. However, there are other signs that this broker is not, in fact, operating a scam. For example, the MT5 trading platform it uses is secure, and its customer service provision is regarded as being generally of high quality and responsive. Further, the online reviews posted for SmartFX are largely positive, and this broker offers a range of payment options for its members. Both the depositing and withdrawing of funds are simple and these transactions are usually processed quickly.
However, the website is not transparent when it comes to its trading fees; this can be indicative of scam practices and, combined with lack of robust regulation, means that this platform should be treated with caution. While it is unlikely to be a scam, the lack of reputable financial oversight could leave investors' funds at risk.
Biggest Complaints Against SmartFX
Although many positive reviews can be found online, there are also SmartFX complaints that claim the organization is a scam: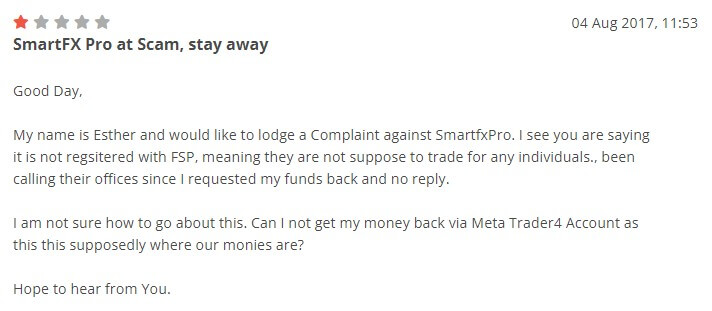 There have also been concerns raised about the stringency of the regulations in place for this broker, which would mean, in the event that it goes bust, that its members' funds would be forfeit.
Can I Get My Money Back From SmartFX?
If you believe you have been a victim of a SmartFX scam, then it is possible to recover your lost funds. You could choose to pursue the matter yourself or, alternatively, instruct a professional chargeback company to act on your behalf. The latter option usually has a higher chance of success as the chargeback company team can bring all of its experience and industry expertise to bear in fighting your case in a bid to obtain a SmartFX refund for you.
What is the Chargeback Process?
To begin, research chargeback companies to find the team you would like to work with. Be sure to check online reviews from past clients, and look at the firms' success rates, too. Once you've chosen, get in touch - most chargeback companies have a simple online contact form on their website.
Next, a member of the team will get in touch to discuss all the details of your case fully, to ascertain whether it has a high chance of success. If getting your SmartFX money back looks likely, then the case will be taken on. The subsequent part of the process involves the team gathering together the documents and evidence required to track down and confront all of the entities - both individual figures and organizations - involved in the scam. When your lost funds are recouped, they will be deposited directly into your bank account. Depending on their complexity, cases can take approximately six months to conclude, although often, the timeframe is significantly shorter than this.
If you have fallen foul of a SmartFX scam and lost money as a result, then it is highly advised that you make contact with a reputable chargeback company at your earliest convenience to take the first step towards recovering your funds.