Who Is Titan Pro 500?
Titan Pro 500 was an online broker that opened in 2014 had its offices in Budapest; its parent company was Appworld KFT. This organization's website has now been shut down. When active, the platform offered new members five different account types: Bronze, Silver, Gold, Platinum, and Diamond, and the minimum deposit across all of these accounts was $250. The leverage on each was up to 1:300, and new investors were given access to an account manager and one-on-one tutorials; those members who opened Diamond accounts were also offered a private webinar with a professional broker.
Titan Pro 500 offered trading in more than forty forex pairs, exotic pairs, CFDs, indices, and cryptos. Trading could also be undertaken in relation to precious metals, including gold, silver, and platinum.
The Titan Pro 500 review below explores whether this broker was a legit concern or a scam and, should the latter have been the case, whether investors have any recourse in terms of recovering their lost funds.
Is Titan Pro 500 a Licensed Broker?
In order to legally provide financial services, Titan Pro 500 required a license from the Magyar Nemzeti Bank (the national bank of Hungary), which it did not have in place. This means that this broker was acting in an unlicensed and unregulated capacity, and any funds deposited were at extremely high risk.
It is vital to make sure that any trader you're considering investing with has a license in place and is regulated by a reputable financial body: this is one of the best ways to satisfy yourself that you are dealing with a legitimate, credible organization. Further, should anything go wrong, a regulator acts as insurance - for example, if you invest funds with a broker licensed by the FCA in the UK, these funds will be insured up to a value of £85,000.
Is Titan Pro 500 regulated? The answer is no, this broker was not regulated or licensed.
Is Titan Pro 500 a Scam or Legit?
The lack of licensing regarding this broker is a warning sign; even if it was not perpetrating a scam, it was still a high-risk proposition given its unregulated status. Its website, when up and running, also did not give detailed information on trading costs and sizes.
However, compelling evidence that a Titan Pro 500 scam was taking place is the public warnings issued regarding this broker from the Financial Services and Markets Authority (FSMA) in Belgium and the Financial Conduct Authority (FCA) in the UK. Added to this is the plethora of negative online reviews from previous investors, this claiming that their funds have been scammed by this platform - more on this below.
Biggest Complaints Against Titan Pro 500
The main source of Titan Pro 500 complaints is former traders who claim that this broker was knowingly perpetrating a scam and who have lost significant sums of money as a result. Titan Pro 500 has an overall rating of 'bad' on the review site, Trustpilot. Many of the complaints concern traders' accounts being deactivated or suddenly disappearing, leaving these individuals unable to withdraw their funds - which were often of a significant amount.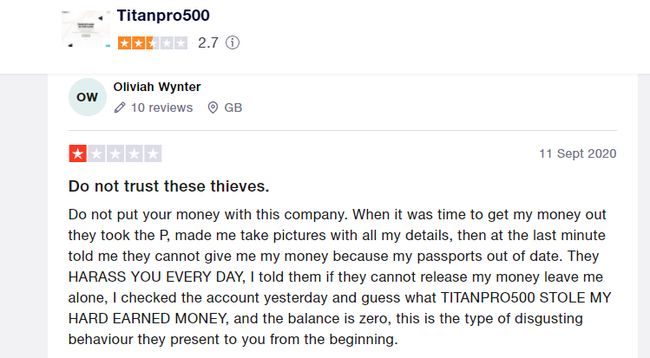 There are also many complaints online from former members who found themselves on the end of repeated phone calls from representatives of Titan Pro 500, even when they had repeatedly asked to have their details removed from the organization's website. Aggressive tactics, used in an attempt to persuade members to invest ever-larger sums of money, are typical of scam brokers.
Can I Get My Money Back From Titan 500 Pro?
It is certainly possible to obtain a Titan Pro 500 refund if you have been scammed by this broker. For the best chance of success, it is advisable to instruct a professional chargeback company to act on your behalf. You may, of course, choose to pursue the matter yourself, but a chargeback team has the industry contacts and expertise, as well as extensive experience with similar scams, to make this the best option. Have a look online at the chargeback companies available, and choose one based on their success rates and their online reviews from past clients. Most have a simple contact form on their website.
What is the Chargeback Process?
To begin, a representative from the chargeback team will get in touch with you to discuss your case. If it is deemed to have a high chance of success, then it will be taken on, and the team will begin assembling everything they need to fight your corner and get your Titan 500 Pro money back. This will involve tracking down your funds and confronting all entities that played a part in the scam. In the vast majority of cases, this will result in a Titan 500 Pro refund being obtained, which will be deposited directly into your bank account.
If you have been the victim of a Titan 500 Pro scam, then your best option is to get in contact with a chargeback company; the team will work hard to recover your funds and support you throughout the entire process.