Who Is USI Tech?
USI Tech (also known as United Software Intelligence) was a company whose website stated was based in Dubai. The business provided a platform for cryptocurrency and forex trading. USI Tech claimed to provide a system for trading and Bitcoin mining that was totally automated and which could yield investors an average of 150% a month on their initial outlay.
USA Tech stated that it was a fully automated Bitcoin trading robot platform that applied complex algorithms allowing for potentially extremely lucrative passive trading.
Was USI Tech a scam company? We investigate below.
Is USI Tech a Licensed Broker?
Potential investors should know that USI Tech had no official license or accreditation from any regulated financial authority. When choosing a broker or trading platform, it is advisable to check for, ideally, a Tier One or Two licensing and pay attention to where the trading company is registered. Some localities' rules regarding regulation are much more relaxed than others.
Was USI Tech regulated? It was not; this business operated as an unregulated investment company.
Was USI Tech a Scam or Legit?
The first thing that raised suspicion about this company was that it was not based in Dubai. It was, in fact, located in Ras al Khaimah. The latter is a different city in the United Arab Emirates, known for its provision of offshore business registration services.
The USI Tech scam involving cryptocurrency, which began in 2017, was one of the largest crypto scams to have ever been perpetrated. What was marketed as, and appeared to be a legitimate way to, make a very healthy return turned out to be a cleverly disguised Ponzi scheme in which investors lost their funds. In 2017 USI Tech was served a cease and desist order by the Texas State Securities Board, and in 2018 the Financial Markets Authority of New Zealand warned that USI Tech was likely to be a scam and that potential investors should be wary of the company.
Authorities in Quebec, Canada also filed for a securities fraud cease and desist order targeting USI Tech's BTC packages and tech coin services in 2018, following an internal investigation into the company, which found that the founders of USI Tech had breached the Securities Act.
Despite this, USI Tech continued to operate, and one Facebook USI Tech review highlighted how the company changed its marketing language in order to continue to enlist and scam new members.
Biggest Complaints Against USI Tech
In the UK, USI Tech complaints were made to the police by a number of investors who had lost money, calling on the law to intervene in the promotion and malpractices of the company: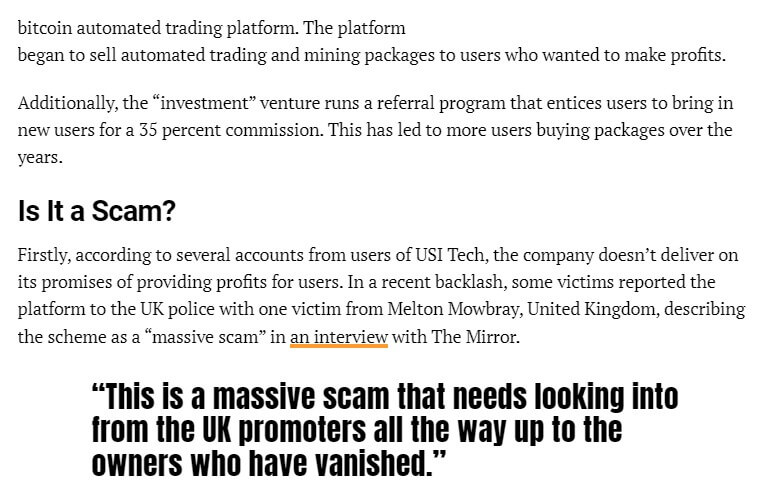 There are also multiple USI Tech complaints that have been made on various review websites. These reviews regularly point to USI Tech having wilfully defrauding investors of their funds, the company preventing traders from withdrawing funds from their own accounts, and the business' failure to respond to emails and other forms of contact: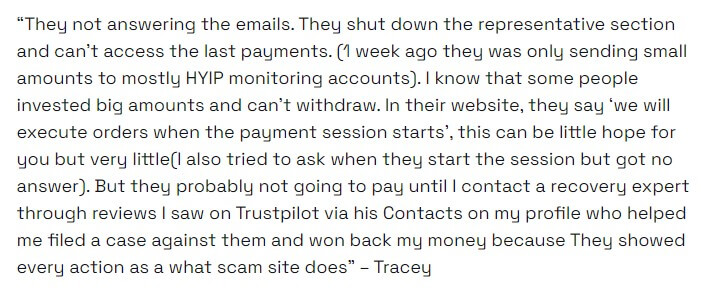 Further USI Tech complaints include those suggesting that the web-trader the company used was fake and that the platform did not actually participate in any live trading at all. Scammed users have also asserted that, in an attempt to appear legitimate, USI Tech sent random payouts to traders which were made up of the newly deposited funds of other investors.
Can I Get My Money Back From USI Tech?
If you've been a victim of a USI Tech scam, then there are ways to get back the funds that have been lost. Although taking legal action yourself is possible, for the best chance of success, it is advisable to enlist the services of a chargeback company that has experience in such scams. When choosing a company to approach, look for high success rates in recovering lost investments and favorable customer reviews.
How Does the Chargeback Process Work?
In most cases, once you make contact, a chargeback company will review your case and let you know the likelihood of getting a USI Tech refund. If the case has, in the experience of the company, a high chance of success, then it will usually be taken on.
The next stage is evidence gathering and the collection of all pertinent documentation relating to your case. Once this has been completed, all the entities, both individual figures, and organizations involved in the scam will be confronted by the chargeback company to recover the client's lost funds. This is where a payback company's experience will come into its own: their knowledge of the field and involvement in past cases mean that they will know the routes to pursue that will be most likely to result in a successful outcome.
If you have lost money as a result of a USI Tech scam, then contacting a chargeback company as soon as possible could be an important first step in getting your money back.